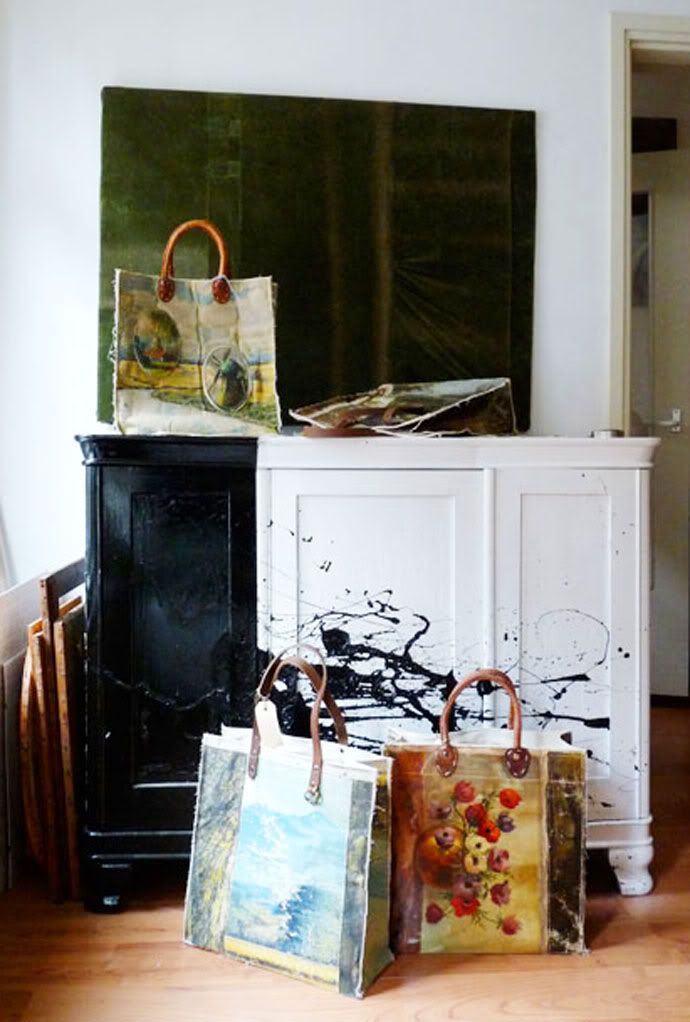 via the glamourai
bags from flea market paintings
In M. H. del Pilar Ave, in Malate in the Philippines, you will find rows of tourist shops selling antiques and faux-antique home decors and cheap reproductions of paintings on canvass. Themes vary from sunset in Manila Bay, farm scene, The Last Supper, flowers, and still life fruits. Some are direct imitations of great local masterpieces. If you're a tourist looking for some cheap souvenirs to take home, it's tempting to keep a blind eye on class and take the plunge. Besides, everything are meticulously hand-painted in oil and the prices are way much lower than the original. Who would know it's a repro when hung in a very expensive frame, right? Who are you fooling. Well, it could enjoy refuge in your walls for sometime until you realize that it's missing the 'heart and soul' present in an original masterpiece. Instead of keeping it in the attic for posterity to either rot in oblivion or as food for the rats, you could turn it into an attractive canvass tote which will look way much cooler. There's also something "Margielic" about it by turning something regular into a real artisanal work of art. You just need to coat it with a layer of varnish to preserve the pigments, some scrap cloth as inner lining, and some really sartorial looking leather bag handles (or can be from an old bag, too).
Wanna know what to do with the empty frame?